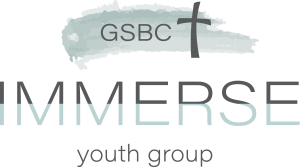 Immerse includes 6th-12th grade students and is led by Pastor Chad in a fun and relaxed environment. We would love to see you there!
Immerse Bible Study
Every Sunday morning at 9:30 a.m. the teens gather at the church for a Bible study.
Worship Service
Following Bible study on Sunday morning, the students attend the church service with their families at 10:45 a.m.
Wednesday Night
Regular Immerse meetings happen Wednesdays 6:00-8:00 p.m. They consist of games, student-led worship, friendship building, and a time of Bible studying and prayer led by Pastor Chad. 
First Friday
First Friday is a fun-filled monthly event, often including activities such as Nerf Wars, game nights, and scavenger hunts. It usually runs from 6:15-9:45 p.m., but be sure to check the bulletin or online announcements for up-to-date information.
Events
Immerse regularly has events such as girls' night, guys' night, paintball, bonfires, etc. in addition to First Friday. The schedule is ever-changing, so please contact Pastor Chad or the church office to find out what events are coming up.
Parents of Immerse Teens:
In order for your teen to be able to participate in our meetings & events this year, please fill out this
permission slip & code of conduct agreement together with your teen(s). Please fill out one form per teen.